No Harry Potter party would be complete without a feast fit for a wizard. You can serve traditional British dishes, such as bangers, mash, and pumpkin pasties, and create a dessert spread featuring treats like Bertie Bott's Every Flavour Beans, Butterbeer and Chocolate Frogs.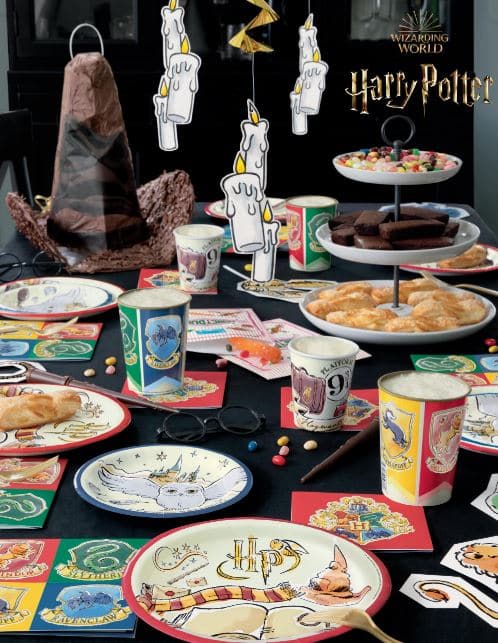 As for entertainment, there are plenty of Harry Potter-themed games and activities to keep your guests entertained. You could set up a Quidditch match in your backyard, have a trivia competition to see who knows the most about the books and movies, or even put on a magical fashion show featuring homemade wizarding robes.  Don't forget to set up a sorting hat station where guests can find out which Hogwarts house they belong to.  
For the party activities, you can have a potion-making station where guests can mix and measure ingredients to create their magical potions. You can also set up a Quidditch field in your backyard and have guests play a game of Quidditch. For added fun, you can divide guests into teams based on the Hogwarts houses and have them compete for the Quidditch Cup.
Don't forget to capture the magical moments with a Harry Potter photo booth, complete with props and backdrops. Your guests will love taking home their personalised photos as a reminder of the fun they had at your party.
To add a touch of magic to the party, you can purchase Harry Potter-themed party favours and supplies from funpartysupplies.co.uk. They have a great selection of Harry Potter-themed cups, plates, napkins, and more to make your party magical.
Regarding party favours, funpartysupplies.co.uk has everything you need to make your guests feel like true wizards and witches. There's something for everyone, from Harry Potter wands and Bertie Bott's Every Flavor Beans to Hogwarts house scarves and wizarding challenge coins.
Make your next birthday party a magical affair with the help of funpartysupplies.co.uk. With their wide range of Harry Potter-themed decorations, favours, and more, you can easily throw the ultimate wizarding celebration. With some planning and creativity, you can throw a Harry Potter-themed birthday party that will be the talk of the wizarding world. Your guests will love the magical atmosphere and the fun activities, and they'll indeed have a birthday they'll never forget. So grab your wand and start planning your party today!