Is Hey Duggee partyware is available now so you can plan the best Hey Duggee birthday party?
Then the simple answer is yes! Launched in 2021, Hey Duggee is one of the most popular TV programmes on CBeebies in the UK. Hey Duggee Birthday Party is trending this party season. Hey Duggee and the Squirrels Club is perfect for toddlers of all ages.  
Who are the Hey Duggee characters?
The Squirrel club includes Hey Duggee, Betty, Happy, Norrie, Roly, Tag, Enid & Frog. Who is your favourite?
Where To Buy Hey Duggee Party Decorations?
Can I buy Hey Duggee Banners? Oh yes, the Hey Duggee Bunting is perfect for hanging along the entrance to your party. Likewise, another great spot is over the birthday cake or perhaps along the front of the birthday buffet table. It's 3 metres long, so pretty versatile, made of plastic so therefore could be used for an outdoor party.
Are there any Hey Duggee Paper Plates, Cups & Napkins?
What would Hey Duggee party be complete if there wasn't Hey Duggee disposable tableware? The plastic Hey Duggee tablecover is printed all over with a confetti design in soft pastel shades. Hey Duggee and Betty, Happy, Norrie, Roly, Tag, Enid & Frog are printed on the edge of the tablecover. The tablecover is pretty generous and would fit a standard dining table that seats eight party guests. Laying the cloth the night before therefore giving you some extra time on the day of the party is a good idea. The Hey Duggee tablecover is made of plastic to be wiped over and used again for a summertime picnic.
Professional tablescapes always add height to a party table – our new Hey Duggee cardboard decorations are perfect for the job. The usual Cbeebie characters all feature – the Hey Duggee tabletop decorations could be used in the playroom or bedroom or even for role play games after the birthday. The tabletop Hey Duggee decorations could be placed in a group or perhaps at the back of the table or surrounding the Hey Duggee birthday cake.
The paper plates are marvellous for buffet food, add a contrasting colour platter for sandwiches & treats down the centre of the table. Are the Hey Duggee paper plates good? They are great, and the Hey Duggee birthday plates are disposable paper, decorated with Hey Duggee and friends and printed with Hey Duggee. Add in a pile at the end of the party buffet table for helping yourself guests? another great idea is to lay the table perhaps and add one to each place setting. Hey Duggee, paper plates are great for a picnic. Convince your toddler to eat their five a day with Hey Duggee!
Where To Find Hey Duggee Birthday Party Balloons?
Where to buy Hey Duggee helium balloons?  Hey Duggee extra-large balloon is ideal for a birthday present and adding to your Hey Duggee birthday decor. The jumbo Hey Duggee balloon is a massive 32″ tall (81cm) – probably as tall as your toddler. Fill with helium to float, or you can cut costs a little and consider filling with air using a straw and hang at your party.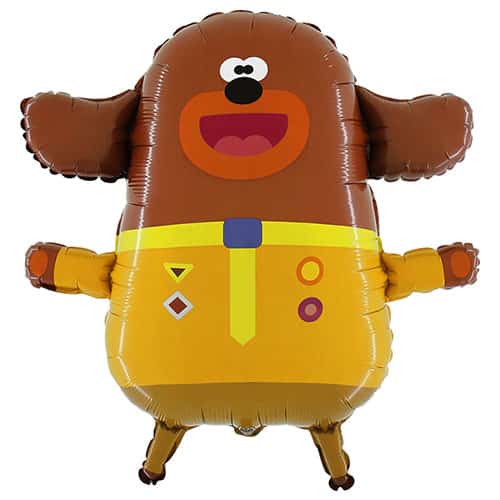 The Hey Duggee Birthday Balloons are also available in smaller sizes for further decor ideas.
What type of animal is Hey Duggee? Or what are the names of Duggee squirrels? Well, there's Norrie the squirrel, Tag the Rhino, Betty the Octopus. Don't forget Roly the Hippo and Happy the Crocodile and of course our favourite big Dog Duggee.
How To Throw An Extra Special
Hey Duggee Birthday Party?
If you have a favourite, then why not choose a cardboard cutout from our selection as a gift or as part of your party decor. The Cardboard Hey Duggee cutouts are free-standing. They are official Hey Duggee products – fantastic for photos, gifts or, for example, hung on the wall after your party.