One of the most important symbols of Chinese New Year is the color red. Red is believed to bring good luck and ward off evil spirits, and it is commonly used in decorations throughout the holiday. From red lanterns and streamers to red paper cutouts and painted red doors, there are many ways to incorporate this lucky color into your party decorations.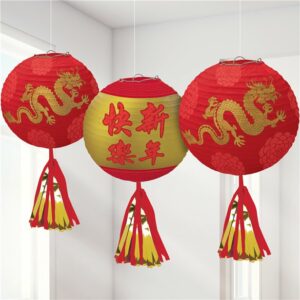 Another important symbol of Chinese New Year is the Chinese zodiac. Each year is associated with one of 12 animals, and decorations often feature these animals in various forms. For example, you might see banners or posters with images of the zodiac animal for the current year, or you might find figurines or other decorative items that feature the animal. 
What year is 2023 for Chinese New Year?
2023 is the year of the rabbit
One of the most iconic decorations for Chinese New Year are the red and gold lanterns. These lanterns, which are often made of silk or paper, are hung throughout the home and in public spaces to add a festive touch to the celebration. You can purchase lanterns in a variety of sizes and styles, or you can make your own using red and gold paper and some simple crafting supplies.
Another popular decoration for Chinese New Year is the use of firecrackers. Firecrackers are thought to ward off evil spirits and bring good luck, and they are commonly set off during the holiday. If you want to include firecrackers in your party decorations, be sure to follow all local laws and safety guidelines.
No matter how you choose to decorate for Chinese New Year, the most important thing is to have fun and celebrate with your loved ones. Whether you go all out with traditional decorations or keep things simple and elegant, the important thing is to enjoy the joy and good fortune of the new year. Happy Chinese New Year!