Party Ideas For Children
It wasn't that long ago that most families had a party at home with just close family & friends. In current times with self-isolating, protecting our families at home, we have pulled together ideas from our team – we have worked out between us we have had hundreds of parties at home in our own childhoods and when our own children were young. The days before a play centre or trampoline park was in every town!
Everyone wants to make a birthday special for our children but perhaps its time to bring that back to the carpet at home.
Most of us have a box or 2 of this stuff, and its a pretty easy party to pull together, especially if you are perhaps just inviting siblings, it can suit all ages.
Download some free printables and start the party with some colouring – these could be sent to loved ones who perhaps are having to stay home and not join in with the party.
Why not choose a theme for your lego – trucks, star wars, harry potter – most children enjoy putting something together – and then taking it apart again – why not add a special tablecover to make it feel a little different from other days and a couple of decorations perhaps?
Cupcakes are popular with all ages, but helping to make them can be so much fun, white cupcakes with primary coloured icing and these cupcake picks are super easy.
We come up with some easy and cheap Lego party games ideas, what about filling a jar with lego and guess how many are in there – count the bricks whilst organising them into colours for playing with another day. Build the tallest towers – always a crowd-pleaser.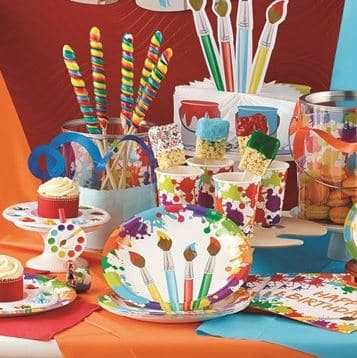 Many children enjoy creating using various arts & crafts – we have a wonderful craft inspired range decorated with a rainbow of colour paints & paint brushes
Create invitations, decorations and party bag fillers using air dried clay, coloured sand and more.
Theme the arts & crafts party around favourite hobbies – perhaps sports, space or science.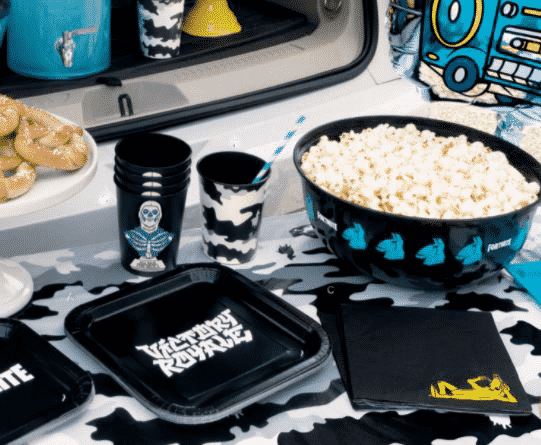 If you're a fan of Fortnite, you're probably always looking for ways to get together with friends and play. Why not throw a Fortnite party? It's a great way to have some fun and bond with your friends. Here are a few tips to help you throw the perfect Fortnite party.
Pick a date and time. The first step is to pick a date and time for your party. Make sure to pick a time when most of your friends will be able to attend. Don't forget to send out invitations.
Decorate your party space. Once you have a date and time set, it's time to start decorating your party space. You can use Fortnite-themed decorations to get everyone in the mood.
Set up your gaming stations. If you're throwing a party, you'll need gaming stations for your friends to play on. You can use your computer, Xbox, or Playstation to set up gaming stations.
Serve snacks and drinks. No party is complete without snacks and drinks. Serve your guests some of their favourite snacks and drinks. 
Our Favourite Film Parties
Albeit a classic or a new streamed film, a movie party is a brilliant way of bringing friends together to celebrate a birthday.  The party team here at Fun Party Supplies top 5 favourites.
Best Film Ever –
Disney Cars – Feel the need for speed with Lightning McQueen & Mater
Classic Family Film –
Toy Story, we couldn't decide which film was our favourite but everyone loved Woody & Buzz.  Buss Lightyear has a new released shortly o we will definitely be waiting the new Buzz Lightyear film with a bowl of popcorn soon.
We love these Toy Story lifesize cutouts – great for a selfie!
Watch time and time again – 
Avengers – it has to be Avengers. We couldn't decide on our favourite film in the series, but everyone had seen at least one of the films more than once. with new releases planned over the next few years the Avengers party is a brilliant option for all ages. Who is your favourite? Captain America, Thor, Black Panther or The Black Widow?
Order Avengers Party Here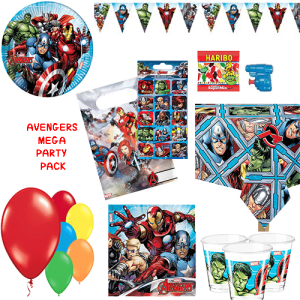 Great film to sing along to –
It has to be the Disney classic Frozen – Disney Frozen, the songs known and sung by all. Throw a Disney Frozen party, decorate with snowflakes, and icicles. Add Elsa & Anna decorations for a perfect Disney Frozen themed party. Disney Frozen fancy dress cold be worn, you could easily organise some craft themed entertainment themed around the lovable Olaf character in the film perhaps.
Disney Frozen Party Ideas can be found here.
Films for the grown-ups too – 
It has to be Star Wars – a love of Star Wars films is passed down the generations.  Throw a Star Wars party with the whole family.  Watch the classics or the newest Star Wars films.  The Star Wars party decorations here are perfect for making the say a little bit special.  We've Star Wars balloons too, along with a pack of napkins with your Star Wars themed space food and the party is perfect.
Everything you need to throw a fabulous birthday party – balloons, decoration, backdrops, selfie novelties & tableware – Next Day Delivery