The contest was initially scheduled in Ukraine following their victory in the 2022 contest with the song "Stefania" by Kalush Orchestra. However, due to security concerns caused by the 2022 Russian invasion of Ukraine, Ukraine could not meet the demands of hosting the event. As a result, the United Kingdom was selected as the host country, and the British Broadcasting Corporation (BBC) is serving as the host broadcaster on behalf of the Public Broadcasting Company of Ukraine (UA:PBC).
The Eurovision Song Contest is the biggest music event in Europe and is eagerly anticipated yearly. In 2023, the event will be held in the United Kingdom for the first time in seven years. This year's contest will be the 67th edition of the Eurovision Song Contest and is set to take place in Liverpool.
The contest will be held at the Liverpool Arena and consist of two semi-finals on 9 and 11 May, and a final on 13 May 2023. The three live shows will be presented by British singer Alesha Dixon, British actress Hannah Waddingham, and Ukrainian singer Julia Sanina. Graham Norton, the Irish television presenter, will join the team for the final.
The contest will also feature side events organised by the host city, Liverpool, in tandem with the contest. The Eurovision Village is the official Eurovision Song Contest fan and sponsors area during the event weeks. At the Village, it will be possible to watch performances by contest participants and local artists and the three live shows broadcast from the main venue.
The Grand Final on 13 May will be presented to a global audience of 160 million by Eurovision legend Graham Norton, Ukrainian singer, composer, and frontwoman of The HARDKISS alternative band Julia Sanina, Emmy Award-winning actress Hannah Waddingham, and singer-songwriter, pop star, and TV presenter, Alesha Dixon. The show promises to be an unforgettable experience for fans of the Eurovision Song Contest, showcasing the best of European music and culture.
In preparation for the event, it's essential to consider party planning. The Eurovision Song Contest is known for its over-the-top costumes, catchy songs, and unexpected moments, making it the perfect excuse for a party. To help you plan the ultimate Eurovision party, we've gathered some ideas to make your celebration successful.
Eurovision Party Decorations
Every party needs decorations, and the Eurovision Song Contest is no exception. Whether hosting a small gathering or a larger event, adding decorations will create a fun atmosphere for your guests. A good tip for this kind of event is not to overcomplicate things; flags are simple yet effective décor for international events like Eurovision and the World Cup.
To create a festive atmosphere, you could decorate the room or outside area for your Eurovision party with flag bunting or larger flags. You could also opt for paper decorations in the colours of the country you're supporting or have a combination of European flags.
Another fun idea is to get some props involved! Inflatable giant microphones or inflatable instruments, like guitars, are a great way to add some fun to your party. You could even set up a photo booth station with props like fake moustaches and chalk signs.
Eurovision Fancy Dress
One of the best parts of the Eurovision Song Contest is the outrageous costumes worn by the performers. You can enjoy this at your party by asking everyone to dress fancy. There are many ways to approach Eurovision fancy dress, whether you opt for a specific country, a past Eurovision winner, or dress in your favourite Eurovision-inspired outfit.
For example, you could dress up as the iconic ABBA, who won the Eurovision Song Contest in 1974 with their hit song "Waterloo". Or, you could wear a more contemporary look and dress up as the 2022 winner, Kalush Orchestra.
If you're supporting the United Kingdom, opt for a Union Jack dress costume, or go for a more subtle approach by incorporating the colours of the Union Jack into your outfit. Alternatively, you could dress up as a famous British artist like Sam Ryder or Bucks Fizz.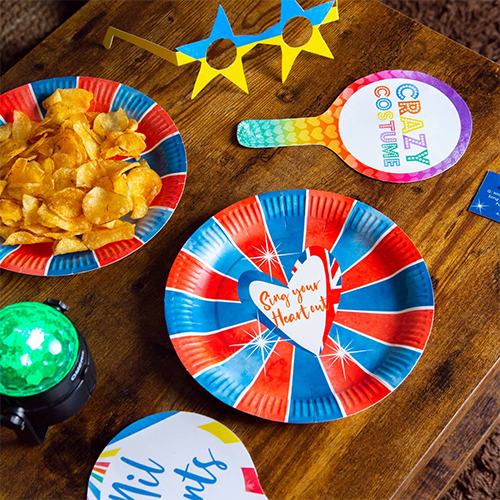 Eurovision Party Food
No party is complete without food; a Eurovision party is no exception. A European-themed buffet is a perfect way to celebrate the international flavour of the Eurovision Song Contest. You can choose a selection of foods from the countries participating in the contest or opt for European favourites.
Eurovision party food ideas:
Pizza for Italy
Draniki for Belarus
Paella for Spain (or sangria for adults)
Bratwurst for Germany
Open sandwiches, or smørrebrød, for Denmark
Meatballs for Sweden
Hummus and pita for Turkey
Casserole for Ireland (and Guinness)
When planning your party food, consider your guests' dietary restrictions. You can also make many of these dishes plant-based or gluten-free with a few tweaks to the recipe.
Funny Party Games
Eurovision is known for its cheesy performances and memorable moments, making it the perfect opportunity to incorporate some fun party games into your celebration. Here are a few Eurovision-themed party games to get your guests engaged:
Eurovision Bingo
Create a bingo card with phrases and events likely to occur during the contest. For example, you could include "fireworks", "wind machine", "key change", or "political voting". As the contest progresses, guests can mark off each item on their card until someone gets bingo.
Eurovision Karaoke
Set up a karaoke machine or YouTube videos and have guests take turns performing some of the most iconic Eurovision songs. You can even have a mini-contest to determine the best Eurovision performer at your party.
Eurovision Trivia
Test your guests' knowledge of Eurovision by having a trivia contest. You can create questions or use an online quiz to determine the winner. Make sure to include questions about past winners, memorable performances, and exciting facts about the contest.
The Eurovision Song Contest celebrates music, culture, and international unity. Hosting a Eurovision party is a great way to share this experience with your friends and family. By incorporating decorations, fancy dress, party food, and fun games, you can create a memorable and entertaining event that your guests will love.
As the host of the 2023 Eurovision Song Contest, the United Kingdom will surely put on an unforgettable show. So, start planning your Eurovision party today and get ready to enjoy the magic of this iconic event! Shop now at www.FunPartySupplies.co.uk