Introducing the Satin Ribbon Door Bow Decorating Pack With Branding
I cannot wait to share my experience with this fantastic Satin Ribbon Door Bow I've recently encountered – the Satin Ribbon Door Bow Decorating Pack With Branding. This fantastic pack has transformed my door decorations, and I'm sure it will do the same for you. Let me guide you through the ins and outs of this beautiful product.
The Components of the Satin Ribbon Door Bow Decorating Pack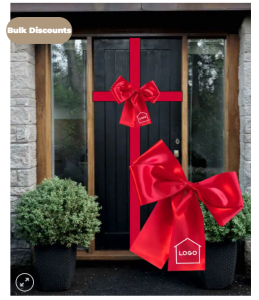 The Satin Ribbon
The main attraction of this pack is the luxurious satin ribbon. Satin is a smooth, glossy fabric for upscale garments and accessories. It has a beautiful sheen that adds a touch of elegance to any decoration. This particular satin ribbon is available in various colours, ensuring you find the perfect match for your home or event. The ribbon was high-quality, and I'm told recyclable with plastic waste. Plans are being made for a sustainable door bow, but the right product is still in discussion – what this space!
The Door Bow
A Satin Ribbon Door Bow is a large, decorative bow on the front door or entrance of a home, office, or event venue. It adds a festive touch and makes a statement to welcome guests. The satin ribbon door bow in this pack is beautiful and easy to assemble and attach to your door. It is handmade, there's nothing sharp to damage the door, and it has little ribbon ties on the reverse to tie onto the ribbon. I was impressed with how this was packaged and how beautiful it looked.
Branded Accessories
The pack had no branded accessories to make your door bow unique, but I thought I could attach personalised charms, tags, or other embellishments showcasing my brand, event, or style if I wanted to.
Putting Together Your Satin Ribbon Door Bow: A Step-By-Step Guide

Choose Your Ribbon Colour
First, select the satin ribbon colour from the website; I was impressed with the availability of lots of different colours, brights and pastel colours. I could choose the colour that complements your door, event, or brand. Consider the size, colour, and texture best suit your needs.
No need to Measure and Cut
The ribbon in the pack was one complete length, 8m long. I didn't need to cut the ribbon but could've with sharp scissors.
Assemble the Bow – Arrives Ready to use
The bow was already made in the pack. It was beautifully made, with ties on the reverse to attach to the ribbon I'd wrapped around my door.
Attach Your Branded Accessories
Before attaching the bow to your door, I found it easier to attach my branded accessories. This could be a charm, a tag, or other embellishments representing your event or brand.
Hang Your Door Bow
Finally, hang your door bow on your front door or entrance. Ensure it's secure and won't be easily blown away by wind or weather. I took the bow down after a week, it was dry so I stored it for next time. It looked the same as it did when I first attached it.
Creative Ways to Use Satin Ribbon Door Bows
Seasonal Decorations
One great way to use satin ribbon door bows is for seasonal decorations. Choose colours and branded accessories that match the holiday or season to give your home a festive feel.
Corporate Events
Satin ribbon door bows are also an excellent choice for corporate events. Use your company's colours and logo for branded accessories to create a professional and cohesive look.
Weddings and Special Occasions
Make your special day even more memorable with satin ribbon door bows. Customize the colour and accessories to match your wedding or event theme, and impress your guests with an elegant touch.
Estate Estate Staging
Satin ribbon door bows can also be used for real estate staging. A beautifully decorated door can create a welcoming atmosphere and help potential buyers envision themselves in the home.
The Satin Door Bow was purchased from DoorBows.co.uk – They have been making door bows and other bows since 2003 – and it shows. The best quality ribbon was used for these bows, and they were beautifully made.
Klara, London