The eagerly-awaited Coronation of King Charles III is set to be one of the most significant events of 2023. Join in on the festivities and prepare for an exciting weekend of celebration from 6th-8th May. We're dedicated to ensuring you don't miss out on this special royal occasion.
In this post, we'll provide you with everything you need to know about the Coronation of King Charles III. We'll address some of the most commonly asked questions about the ceremony and the weekend's events
What is the Coronation?
The upcoming Coronation ceremony will see Charles III officially crowned the new King of England. This historic event promises to be one of our lifetime's most remarkable royal celebrations. The service will include an oath-taking ceremony, followed by the placing of the St. Edwards crown on the new King's head by the Archbishop of Canterbury. This moving ceremony is just one of many exciting events planned for the Coronation weekend.
The Coronation of King Charles III is a momentous occasion steeped in pageantry and tradition. The festivities are encouraged nationwide, making it a time for celebration and unity. A bank holiday has been declared in the UK to mark this special state event, allowing everyone to participate in this spectacular occasion and celebrate together.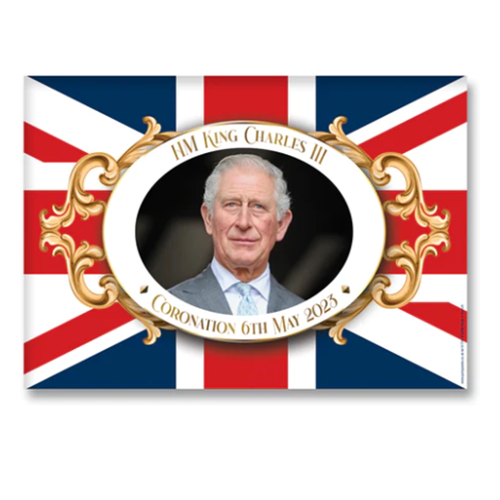 When is the Coronation of King Charles III?
The coronation ceremony of King Charles III will take place at Westminster Abbey on Saturday, 6th May 2023, kicking off the weekend of festivities.
The event has been scheduled to coincide with the spring/summer season of 2023, marking 70 years since the Coronation of Queen Elizabeth II in 1953. This makes the celebrations all the more remarkable for many. The ceremony itself is just one of many events that will take place over the bank holiday, with many more celebrations spread across the weekend.
What is happening over the weekend for the Coronation?
Buckingham Palace has finally released details of the much-anticipated coronation weekend. Since Charles was announced as the new King in September, excitement has been building, and organisers are sparing no expense to make this an unforgettable event! The coronation promises to be a royal spectacle, with festivities spanning over three days, starting with two grand processions on Saturday.
What is The King's Procession? Can I watch it?
The King and Queen Consort will travel in the majestic Gold State Coach from Buckingham Palace to Westminster Abbey for the Coronation service. The King's Procession will be a grand spectacle, with the streets of London lined with crowds of eager spectators and members of the armed forces in attendance to mark the occasion.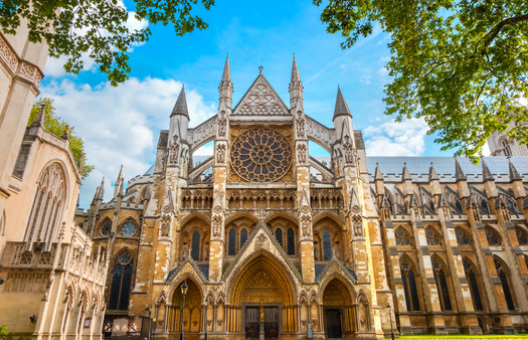 What is the Religious service at the King's Coronation? What does it mean?
The Coronation service on Saturday, May 6th, 2023 promises to be an unprecedented ceremony, unlike any other seen before. It has been 70 years since Queen Elizabeth's coronation in 1953, and for most of us, the day is only known through the recollections of our parents or grandparents or black-and-white footage from the earliest days of television.
The Coronation weekend will commence with a service at Westminster Abbey, presided over by the Archbishop of Canterbury, a tradition dating back to 1066. King Charles will take the coronation oath, accompanied by his wife, The Queen Consort, Camilla.
During the service, the new King will receive the royal orb and sceptres and be blessed by the Archbishop. These same regalia were last seen at the state funeral of Queen Elizabeth II in September 2022. The ceremony's highlight will be the Archbishop's placement of St Edward's Crown on the King's head. This grand ceremony will observe many royal traditions and has remained unchanged for over a thousand years.
Where can I see the King's Procession After The Coronation?
The Coronation service at Westminster Abbey is expected to have a guest list similar to the Queen's funeral, with religious leaders, peers, MPs, and foreign heads of state, including presidents and monarchs. However, for public members who wish to attend the Coronation in person, there will be a procession through London, allowing everyone to partake in the grandeur.
Following the Coronation ceremony, King Charles and Queen Consort Camilla will return to Buckingham Palace in the ceremonial 'Coronation Procession.' Joining His Majesty King Charles III and his wife Camilla in this regal parade will be other royal family members, such as the Prince and Princess of Wales, William and Catherine. Upon their arrival at Buckingham Palace, the King, Queen Consort, and the rest of the royal family will appear on the balcony to wave to the enthusiastic crowds below.
When is the Coronation Concert?
On Sunday, May 7th, a Coronation Concert will be held at Windsor Castle, produced and broadcast live by the BBC for the entire nation to enjoy. Following the tradition of the concerts held during Queen Elizabeth's jubilee celebrations throughout her reign, this event will bring together global music icons and performers from around the world to celebrate this momentous historic occasion.
The concert will feature a world-class orchestra, dancers, and other entertainers. Joining these stars on stage will be The Coronation Choir, a diverse group of UK community choirs and amateur singers. These include NHS choirs, refugee choirs, LGBTQ+ singing groups, and deaf signing choirs, representing the many faces and voices of the country.
What is Lighting up the Nation? What Do I Need To Do?
'Lighting up the Nation' will serve as the visual highlight of the Coronation concert. This breathtaking display of light across the United Kingdom will bring the country together in the celebration by illuminating towns, cities, and regions. The nation's projections, lasers, drone displays, and illuminations will light up various locations. Check local information to learn more about how you can participate in 'Lighting up the Nation.'
What is The Coronation Big Lunch? When is the big lunch?
Could the Coronation Big Lunch be the largest community gathering in British history? On Sunday, May 7th, millions nationwide will come together to share food and fun with street parties, picnics, barbeques, and tea parties held in neighbourhoods and communities nationwide.
Her Majesty, The Queen Consort, is a patron of the Big Lunch, an event that encourages communities to come together for support and to foster a sense of community spirit. The Big Lunch website describes the Coronation event as a 'right royal knees up' – an occasion not to be missed!
Everyone is invited to participate and celebrate in this nationwide gathering of friendship, food, and fun. Whether it's a simple cup of tea with your neighbours or a catered event for the entire community, no gathering is too small or too big, and street parties are encouraged throughout the country.
The Coronation Big Lunch is an excellent opportunity to get to know your neighbours and community members better. This May, thousands of events will occur in every corner of the UK, with people taking to the streets, gardens, parks, and community spaces in their local areas to participate in the Coronation celebrations over this coronation weekend.
What is The Big Help Out? Can I Do This?
The Coronation celebrations will extend into the Monday of the bank holiday weekend, where we will be encouraged to volunteer in our local communities as part of The Big Help Out. This event aims to unite communities through volunteering, creating a lasting legacy of community spirit from the Coronation Weekend.
According to the Palace website, The Big Help Out will take place on May 8th and is being organised by The Together Coalition and a wide range of partners, such as The Scouts, the Royal Voluntary Service, and various faith groups from across the United Kingdom. In honour of King Charles' commitment to public service, the event will highlight the positive impact volunteering has on communities throughout the country. The Big Help Out will encourage people to try volunteering for themselves and support their local areas.
Who will be celebrating the Coronation?
Everyone is welcome to join in the celebrations of the Coronation! While the event will undoubtedly hold special significance for many British people and members of Commonwealth nations who support the royal family, you don't have to be a royalist to participate. Similar to the festivities of the Jubilee last summer, the Coronation offers an opportunity to have fun, socialize, and mix with different people.
In essence, the Coronation is all about coming together with members of your community, neighbours, friends, and family in villages, towns, and cities throughout the nation over the bank holiday weekend. Whether you're planning a street party, picnic, barbecue, or any other gathering for the big day, find Coronation decorations, tableware, and party supplies to make your royal celebration a success.
How to organise the best party for The King's Coronation
The first step in planning your Coronation celebration is finding a suitable location to host your event. Community venues and outdoor spaces are excellent options for any Coronation party. Check what happens during the Coronation bank holiday weekend in your local area, as your town, village, or city council may have planned something for the big weekend. These types of events require a lot of preparation, so if you'd like to get involved in the Coronation weekend, you can volunteer to help with the set-up or find out when and where the Coronation celebration will be held so that you and your friends, and family can attend.
If there are no plans in your neighbourhood for the Coronation, but you are interested in organizing an event, many valuable resources are available. Check out the 'Guide to Organising a Street Party' on the gov. UK website offers helpful advice, including how to close your road for a Coronation street party. Alternatively, you can visit the official website for The Big Lunch, organised by the Eden Project, where you can pre-order a pack of information, ideas, and starter tips for organising a Coronation Big Lunch in your community.
You can also celebrate the Coronation at home or in your venue. Gardens, pubs, and clubs make great settings for Coronation events! Host a Coronation afternoon tea indoors, or take advantage of the British summertime by setting up a marquee for a barbecue and laying out picnic blankets for a garden party on the grass outside.
What are the best decorations for a Coronation Party?
Once you've selected the venue for your Coronation party, it's time to set the scene! At Fun Party Supplies, we offer various British and royal-themed decorations to dress up your venue for the Coronation. Union Jack flags and bunting are essential for any royal event or street party! Find bunting for the King's Coronation featuring the British flag in various styles and materials here at Party Packs. When choosing your bunting and flags for the Coronation, consider how and where they will be used. Paper Union Jack and Coronation logo banners, posters, and bunting make incredible decorations for indoor celebrations and outdoor events under shelters, such as marquees, awnings, and large gazebos. Paper bunting is also an eco-friendly choice.
While we're all hoping for sunshine during the Coronation of King Charles III bank holiday weekend, it's wise to consider more durable bunting material for venues exposed to rain. PVC and fabric bunting are excellent options for garden parties, picnics, and other outdoor events for the King's Coronation. Choose from various styles and lengths, from triangular pennants to giant flags and alternating patterns. Our exclusive Coronation logo bunting features the official emblem of the King's Coronation with Union Jacks. You can also opt for a traditional gingham style for a vintage British feel or red, white, and blue bunting for a patriotic effect.
Gold foil streamers and garlands provide excellent contrast against a red, white, and blue backdrop, adding some royal sparkle and shine to your Coronation event! Hang the 'God Save The King' message banner along a table or wall in your venue for the Coronation. These golden letters spelling out the national anthem make a fantastic decoration for a street party or Coronation afternoon tea. Combine these regal streamers with tissue fans and hanging honeycomb shapes to add dimension to your Coronation party space. Balloons are a cost-effective and budget-friendly choice of decoration for the King's Coronation – once inflated, it doesn't take much to create an impressive display! With a DIY balloon arch kit, you can create your very own balloon cloud like the one in the picture below. These balloon clouds look spectacular and take only a few minutes to assemble.
Simply hang your balloon tape across a space in your venue or along a table outside if you're hosting a street party. Next, inflate your balloons – red, white, and blue to match the Union Jack flag. Add some red or gold confetti balloons along with our exclusive commemorative Coronation of King Charles III latex balloons featuring the date of the Coronation. Once you've tied up all your balloons, push the knots through the holes in the balloon tape. This eye-catching decoration will surely attract attention to your event and is a great way to set the scene for the Coronation festivities.
Complement your balloon cloud with Coronation foil balloons. Display the cypher of the new King (CIIIR) with gold letter shapes for an extra special touch.
Where can I buy Life-Size Cutouts of the Royal Family?
To add some royal charm to your Coronation celebration, consider inviting some essential royal family members to your event, even if they can't make it in person. Our lifesize cardboard cutouts of King Charles III, Queen Consort Camilla, Prince William, and Duchess Catherine will surely be a hit at your street party or gathering. These free-standing stand-ups will provide the perfect photo opportunity for guests to pose next to the royals and capture event memories. Add props such as tiaras, crowns, and sceptres to complete the look and make your Coronation celebration memorable. FunPartySupplies.co.uk has a full selection of life-size cutouts of the king, queen and the whole Royal family – they are also available on a Next Day Service.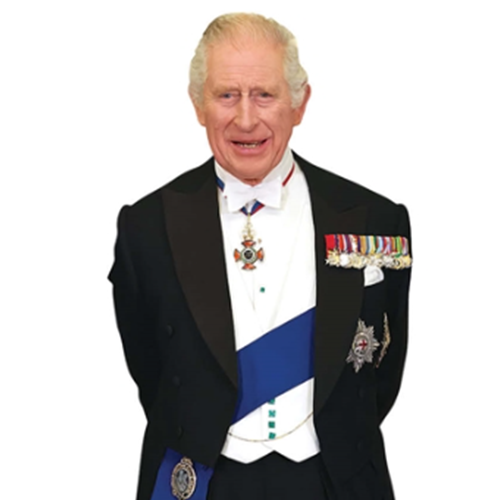 Where to buy Disposable plates, cups & napkins for the King's Coronation?
A cake display is a quintessentially British tradition and a perfect addition to any Coronation celebration! Food and drink have always been central to British royal celebrations, including Coronations and Jubilees. Whether planning a street party, picnic, barbecue or another feast for the Coronation, ensure you have the perfect tableware. From Coronation cake stands to Union Jack plates, cups, napkins and cutlery, we have everything you need to make your event successful.
For larger events, opt for large platters with a selection of snacks and treats, while Union Jack burger boxes, chip cones, and food boxes are perfect for those serving from behind a food stall or counter. And don't worry about the cleanup – disposable plates make tidying up after your event quick and straightforward. So, set up your cake display with our range of tableware and enjoy The Big Coronation Lunch with your loved ones!
Where to buy Coronation & Union Jack Cake Decorations?
To make your Coronation celebration genuinely unforgettable, it's all about the little details! Don't overlook the power of accessories like cake picks, Union Jack cupcake cases, flags, and toppers to add a special and unique touch to your Coronation cake display. These small touches can elevate your party treats and make them look extra delicious. For example, you can adorn your Victoria sponge with an exclusive King Charles III Coronation cake topper featuring the royal cypher.
There are many cake decorations and accessories options that can help you customize your dessert offerings for the big event. The possibilities are endless, from miniature flags to cupcake toppers featuring iconic royal symbols like crowns and sceptres. Whatever you choose, these decorative touches will add a regal flair to your Coronation feast.
How to dress the table for the King's Coronation?
Dress up your table for the Coronation with paper and foil sprinkles, like this Union Jack and St. Edward's crown confetti. Table crystals are an excellent choice for grown-up parties, but with events where there will be smaller children in attendance, you may want to consider not including smaller parts such as these in your table decorations. Instead, you can opt for tissue paper confetti, such as round red, white and blue tissue pieces.
Table flags look lovely placed along the length of the table in flag holders – choose flags with the Coronation logo or Union Jacks for a patriotic feel. Centrepieces add a great focal point to your Coronation table decor.
Tell us your plans for the Coronation.
The bank holiday weekend for the Coronation of King Charles III promises to be a time of joy and celebration. Please explore our complete Coronation Decorations collection for all your party essentials. Did you find our Coronation guide helpful? We'd love to hear about your plans and how you're marking the occasion. Share your street party tips and decorating ideas in the comments below, and let's spread the festive spirit far and wide. We'll see you on May 6th!