Halloween is very exciting this year as it falls on the weekend, and we have the opportunity to have lots of Halloween fun with family & friends.  The trend for a more light-hearted spin on the Halloween season continues, with more emphasis on our favourite TV & Film characters costumes.
Next Day Delivery  
The perfect Halloween costumes for little ones – use a quick delivery service.
What are the trends for Halloween 2021?
We expect the new Hey Duggee Halloween Costume to fly off our shelves with a Woof!  Plus the new Peppa Pig Halloween Costumes also now in stock.
What Ages Are Halloween Costumes Available In?
With our ever-popular Pumpkin Costumes now ranging from tiny cute 3 months old to teenagers this year, we hope to see the trend of a family affair – with the whole family dressing up together.
How Many People Chose a Witch for their Halloween Costume?
4.6 million people when surveyed expressed a witch was their go to costume for Halloween.  So if you like the children to be traditional witches at Halloween, you are in great company, with witches still being the most popular costume for Halloween.  We've rainbow coloured witches costumes, costumes with sparkles, sequins & stripes plus traditional black witches, plus of course witches hats, black cats & broomsticks.
Have a little devil at home? Then the new Halloween devil costumes, we a super cute one for little babies & toddlers – or Devil costumes for the older children complete with devil headbands, wings & tails.
New for Halloween 2021 – Insta costumes. Great packs to add to plain legging & tops for instant Halloween Dressing Up – Versatile & great value for money.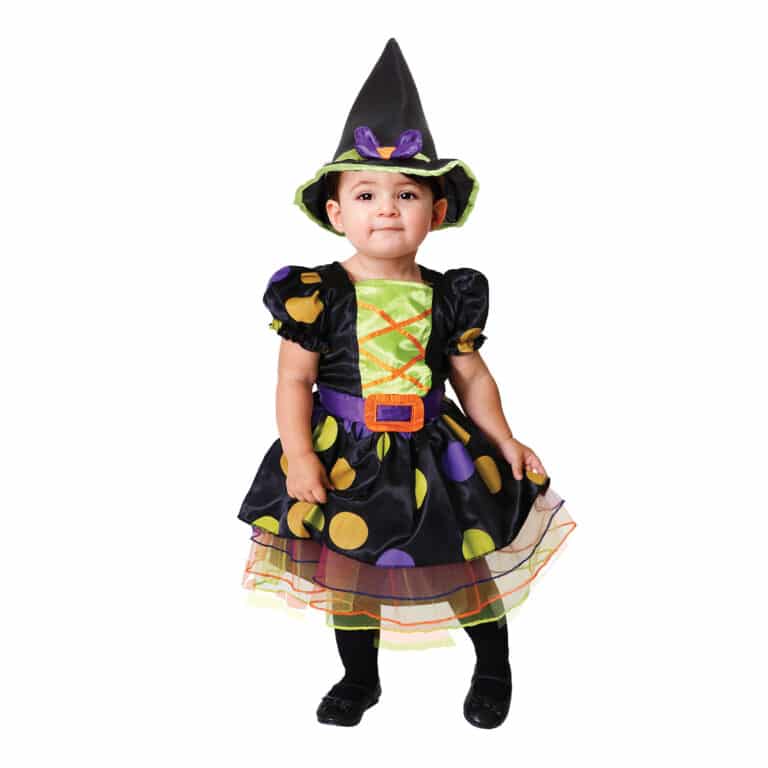 Helpful Tips
Read the sizing carefully, we always include as many measurements as possible, you want the costume to fit well. Don't rely on the ages – this is a guide only. Find the tape measure!
Order Early, Halloween stock is not limitless and may be difficult for us to replenish easily this year. If you find a must-have favourite costume then order asap to avoid disappointment.
Don't forget the accessories, witches hats, broomsticks, face paints, props – they complete the outfit, but read the descriptions, some are already included.
Don't forget Glow Sticks, battery-operated lanterns & Candles, Use Battery Operated Lights Only, avoid naked flames around children.